Birth Place: Bensonhurst, New York
Birth Date: June 19, 1897
Date of Passing: May 4, 1975
Buried: Hillside Memorial Park Cemetery, Culver City, CA
Age: 77
Height: 5′ 3″
Moe Howard was born on June 19, 1897, in Bensonhurst, New York, a small Jewish community on the outskirts of Brooklyn. Moe's real name was Moses Horwitz. Moe's mother's name was Jennie Horwitz, and his father was clothing cutter, Solomon Horwitz. Moe was the fourth eldest of five Howard brothers. Two of Moe's brothers, Jerome (Curly), and Shemp performed with him as members of The Three Stooges. Moe's other two brothers, Jack and Irving, never entered show business.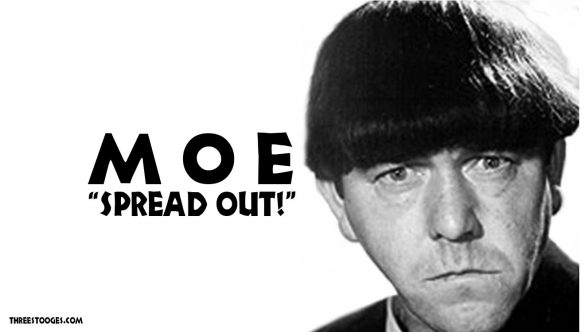 Moe graduated from P.S. 163 in Brooklyn. He attended Erasmus High School for only two months and never completed his high school education. To please his parents he took a class in electric shop at the Baron DeHirsch Trade School in New York. Moe's true love, however, was the theater. In 1909 at the Vitagraph Studios in Brooklyn he earned his entry into filmmaking by running errands for the performers. His persistence paid off, and he soon appeared in films with such stars of the time as John Bunny, Flora Finch, Earle William, Herbert Rawlinson, and Walter Johnson.
It was also in 1909 that Moe met Ted Healy. They became close friends, and in the summer of 1912 joined Annette Kellerman's aquatic act as diving "girls". This job only lasted through the summer. After a separation, Moe renewed his acquaintance with Ted Healy in 1922 and together with brother Shemp formed a partnership, which would last, with a few short breaks, for almost 10 years. On June 7, 1925, Moe married Helen Schonberger, who was a cousin of the late Harry Houdini.
After a short stint outside of show business, Moe rejoined Ted Healy. Larry Fine joined the act in 1925. Healy with his Stooges appeared in a string of vaudeville shows including A Night in Venice. Ted Healy and his Stooges made their first screen appearance in the classic 1930's comedy feature "Soup to Nuts" for 20th Century Fox. This film was followed by a series of comedies for Metro Goldwyn Mayer.
In 1934, Moe Howard, Larry Fine, and Jerome Curly Howard signed on with Columbia Studios as The Three Stooges to make the comedy shorts that are still viewed on television today. In 1958, Moe and Larry joined Joe DeRita to continue The Three Stooges act until Larry suffered a stroke during the filming of "Kook's Tour" in 1970. As Larry was unable to perform, Moe and Curly Joe considered replacing him with Emil Sitka, but The Three Stooges never performed together again. Moe has two children, Joan and Paul. Moe passed away on May 4, 1975, at the age of 77.