Birth Place: St. Louis, Missouri
Birth Date: August 12, 1907
Date of Passing: March 1, 1988
Buried: Forest Lawn Memorial Park, Glendale, CA
Age: 80 Height: 5′ 4″
After Shemp Howard died in 1955, the Stooges replaced him with Joe Besser. Joe Besser was born in Saint Louis, Missouri on August 12, 1907, to Fannie and Morris Besser. His parents were Orthodox Jews and moved to the United States from Poland in 1895 where Morris worked as a baker.
By 1928 he was well on his way to being a solo comedian. While on tour he was introduced to Erna Dora Kretschmer (Erna Kay) whom he married on November 18, 1932. Erna Kay served as a choreographer on the 1929 Paramount film "The Coconuts," which featured the Marx Brothers. Around 1940, Joe took Columbia Pictures contractee Jimmy Little on tour as his straight man. Soon Joe became a headliner on the Orpheum, RKO, Paramount, and Loew's theater circuits. He also appeared on the Broadway stage.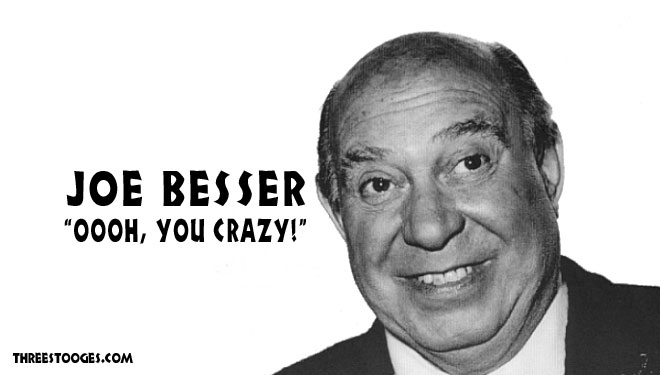 Eventually, Columbia Pictures signed Joe to an exclusive contract and cast him in features and Comedy two-reelers. Slowly making his climb to stardom, radio comedians like Jack Benny, Fred Allen, Eddie Cantor, and Milton Berle were all clamoring to have him on their shows. Besser made frequent appearances on the Jack Benny Show, The Fred Allen Show, The Eddie Cantor Show, Tonight on Broadway, The Vaughan Monroe Show, and from 1945 to 1949 he played with Milton Berle on Let Yourself Go.
Besser made many comedy shorts for Columbia before joining The Three Stooges in 1956. Joe left the Stooges in 1958 and went on to star in feature films and had a successful television career. On March 1, 1988, Joe passed away in his North Hollywood home of heart failure. Fourteen months later, his wife Erna died on July 1, 1989.