Happy Birthday Curly! (October 22)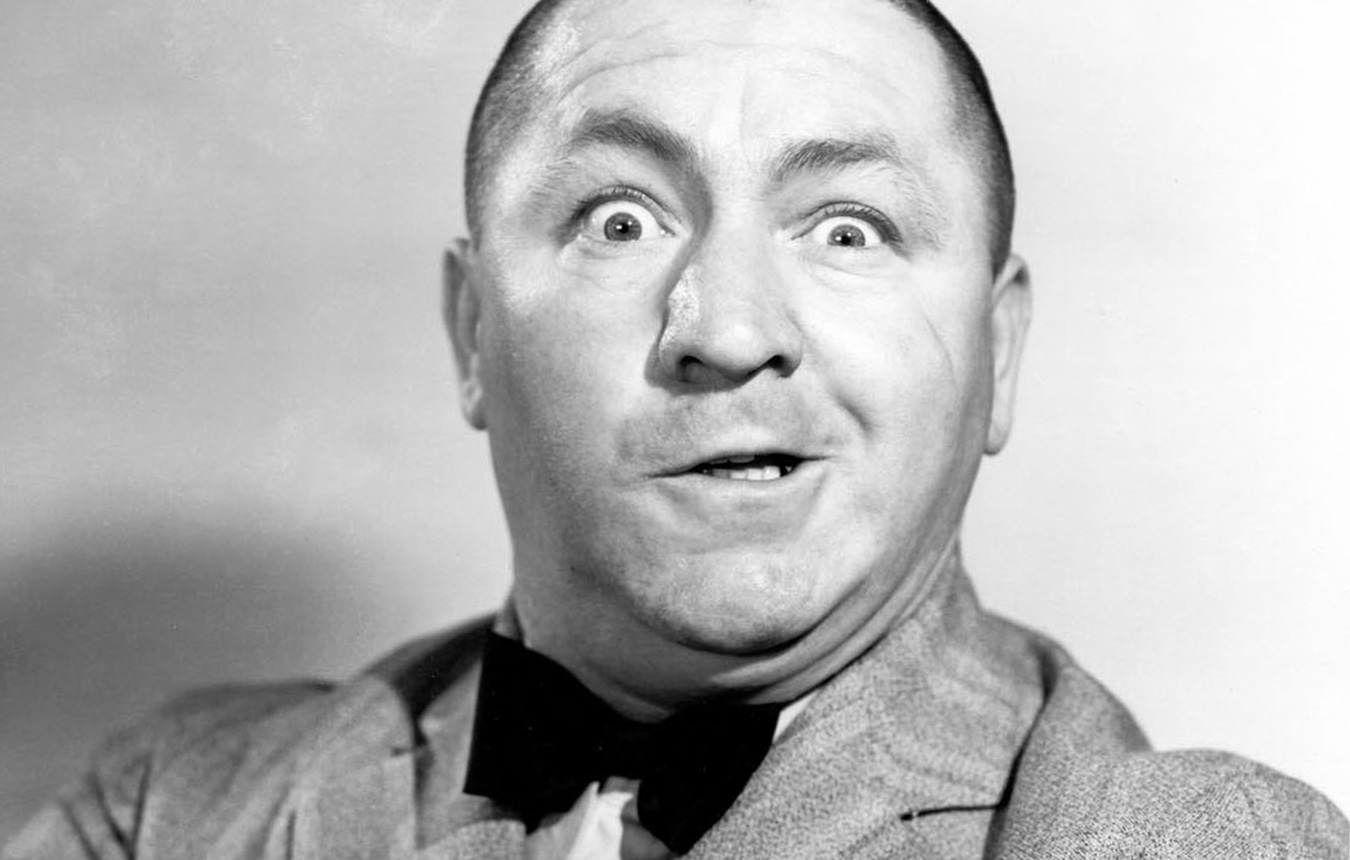 Jerome Lester Horwitz was born on October 22, 1903 in Brooklyn, NY. Known as Babe to his family and Curly to a worldwide legion of Three Stooges fans. He was the master of visual and verbal comedy. Curly's excited yelps of "woob woob woob," sly "Nyuk, Nyuk, Nyuks," dog barks, compliant "Soitenlys," and his quick face swipes are all timeless trademarks that are tightly woven into the fabric of popular culture.
"Nyuk! Nyuk! Nyuk!" was first heard  in 1934's Men In Black, along with his famous "Hhhmmm!" In The Three Stooges first Columbia short Woman Haters, Curly gave us the "Woob! Woob! Woob!" He added the snarling "Rrrufff!" to the repertoire in 1937's Dizzy Doctors. Among other verbal gems is "Nyagghhh!" usually used when The Boys were confronted by the bad guys, the monster or whomever or whatever was chasing them.

Of course, there was much more to Curly than his wonderful phrases. The finger wave and the hand wave, especially in front of Moe's face, was a staple of his visual craft. The finger snap followed by the famous cheek finger roll was probably the most memorable of his hand moves and probably the most imitated by fans.
His faces and expressions were remarkable and in 1935's Pardon My Scotch; he even showed us the first example of the Curly Shuffle.  His footwork was incredibly balanced as any of his 360-degree tiptoe pivot turns illustrate.
Take Off Your Hat. Raise Your Right Hand.
His slapstick in Disorder In The Court is arguably some of his best business. When you combine the graceful movement between hat and cane, his facial expressions, turning the tables on the clerk and the machine gun bit with the derby and cane you end up with a comedic tour de force.
"Oh! Oh! Oh! Look!" Not only another great Curly phrase but used quite often as Curly's head does damage to assorted saws, axes, picks, pipes, tools, mallets, hammers, crowbars and all the other implements that Moe and Larry used to bonk, bounce and bend off Curly's head.
Shoot Golfs!
The scenes on the golf course from 1935's Three Little Beers are very clever, artistic and spatial arrangements that allow The Boys to 'Spread Out' from each other and do individual pieces of business. Curly's scene with the ball washer that he uses to do his laundry is not only funny but also introduces us to Curly singing "La Dee and La Dah" to himself. The busy work song became a verbal staple that he added to his expressions and movements in many more films.
Curly's ability to blend his facial expression and movements in bit after bit after bit served to showcase his talent and comedic genius. There are so many scenes that can be used to illustrate the point, here's a handful of iconic Curly moments.
Curly in Pipes from 1940's A Plumbing We Will Go
The Present Arms routine in 1940's Boobs In Arms
The Oyster Battle from 1941's Dutiful But Dumb
The Spooky Balloon from 1943's Spook Louder
The Calculator-Adding Machine Tape-From Mouth bit from 1940's No Census, No Feeling
Then there's Curly in drag as Senorita Cucaracha lip-synching in 1945's Micro-Phonies
Of course Curly could make any costume work, whether it was a baggy suit, a civil war uniform, a kilt, a tuxedo, a safari jacket or a nightshirt. He could even make wonderful and funny moves when his shoes were cement, watermelons or even guitars!
Whether making a pass at a pretty girl, spritzing seltzer, taking a fall, getting a bonk, slap or whap, spilling the ink or tossing the cream pies, Curly was simply one of the best comedians ever to grace the silver screen.
Babe
That was his nickname. He was the youngest of the five Howard brothers. He was born Jerome Lester Horwitz on October 22, 1903, in Bath Beach in Brooklyn. Curly married four times; his first marriage was annulled and his second and third ended in divorce. His second wife, Elaine, bore him his first child, daughter Marilyn. Curly married Valerie Newman in 1947 and gave him his second daughter, Janie. Curly passed away on January 18, 1952, at age 48.
Hey Moe! Hey Larry!
Curly made 97 shorts at Columbia with Larry and Moe, the last being Half-Wits Holiday, which was made in 1946 and released in 1947. Curly had a serious stroke while making the short (May 1946). How fitting that in this last short Curly is the instigator of one of the Stooges' all-time pie fights.
Curly did make a cameo appearance in 1947's Hold That Lion, The Three Stooges 100th Columbia short. That was the only time Larry, Moe, Shemp and Curly appeared on screen together.